The magnificent Leh-Ladakh is a dream for travelers and enthusiasts. It is famous for its scenic roads and constantly changing nature.
Five of the 18 charging points have been installed at the world's highest motorable passes including Khardung La, Chang La and Taglang La passes.
Fifteen of these have been installed at a height of 10,000-15,000 feet above sea level.
Will you be driving in an electric vehicle from Manali to Leh? You're covered, don't worry. EV charging stations will be installed along the Manali-Leh route in the Ladakh region, according to PowerBank, the flagship brand of Shuchi Anant Virya. The world's highest motorway passes have five of those charging points including Khardung La, Chang La, and Taglang La passes.
In just 10 days, all of the charging points along the 1800-km Manali-Leh road were constructed, with 15 of the 18 charging stations located at altitudes of 10,000-15,000 feet above sea level. Manali, Leh, Kargil, Nubra, Turtuk, Pangong and Siachen Base Camp are all sites along the route. The chargers installed are a mix of Type I and Type II AC chargers catering to two, three, and four-wheeler electric vehicles.
The charging stations on the main highways surrounding Manali and Leh are spaced every 100 kilometers. Even though these aren't fast chargers, you won't have to stress about running out of battery or being stranded in the middle of nowhere with these.
The Shuchi Anant Virya team used electric vehicles to travel from Manali to Leh, charging them at the stations along the way. Two ZS EVs, with a covered range of 419km, carried out the whole task of setting up the chargers. Back in 2020, Tata was using the Nexon EV to Leh for marketing and relying on a home socket to charge the car.
"We set out on this journey with the aim of protecting the most fragile ecosystems in India, starting with Himachal and Lakdak," said Sanjay Krishnan, Founder, Lithium Urban Technologies. Shuchi Anant Virya is a joint venture between Fourth Partner Energy and Lithium Urban Technologies.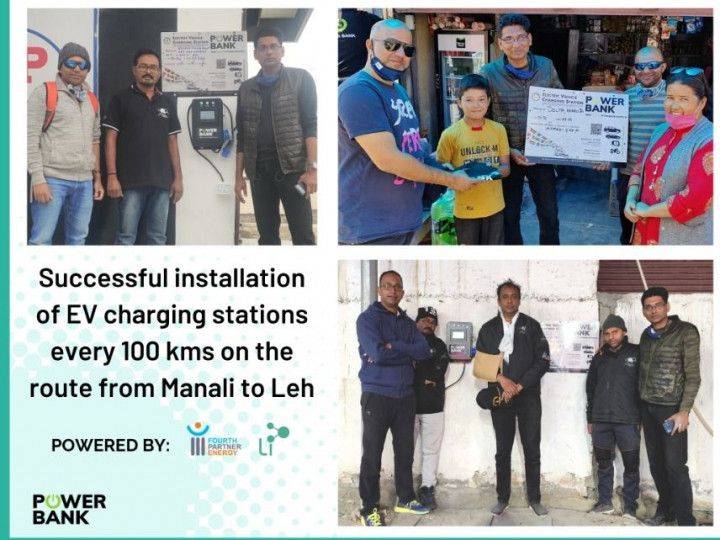 In places like Hermis Monastery, the Grand Dragon Hotel in Leh, the Hotel Kargil in Kargil, and the Nubra Organic Retreat and Cafe-wala Chai in Nubra, these EV charging stations have been built at key and handy spots along with the picturesque locations. Passengers can leave their EVs charging overnight at these locations, or even stop for a snack or a nap while their vehicles are in the process of charging.
Also in India is the world's highest charging station (for two-wheelers), which is located in Kaza, Himachal Pradesh, at a height of 12,467 feet. The team even brought two iQubes TVS to Kaza from Manali to charge the electric scooters.
Through this effort, PowerBank wants to convert at least 50% of the vehicular traffic in the region into electric vehicles over the next 36-48 months and reduce emissions of carbon in popular tourist destinations. "Through PowerBank, we are looking to cover the length and breadth of the country with accessible, affordable EV charging points that are easy to use," said Vivek Subramanian, Co-Founder, and Executive Director, Fourth Partner Energy.
As charging infrastructure improves across the country, range anxiety should become less of an issue in the near future.
Source: hindustantimes.com