On Friday, Meghalaya set the foundation stone for India's first electric vehicle charging station (EVCS) in the midst of a concerted effort to shift from fuel to electric cars in response to environmental concerns.
As part of Power Grid Corporation of India Limited's(a Maharatna Public Sector Undertaking under the Ministry of Power) office building at Lapalang, Shillong, a foundation stone for Meghalaya's first electric car charging station was laid. The EVCS is being developed as part of the Faster Adoption and Manufacturing of (Hybrid) and Electric Vehicles (FAME) India Scheme Phase-II. The project would see the development of 11 EVCS in Shillong city (5 public EVCS and 6 at government enterprises).
The foundation stone was laid by AK Thakur, Member Secretary, North Eastern Regional Power Committee (NERPC), in the presence of RK Tyagi, Executive Director, North Eastern Regional Transmission System, POWERGRID, and N Roy, Chief General Manager (I/C), North Eastern Regional Load Dispatch Centre, POSOCO.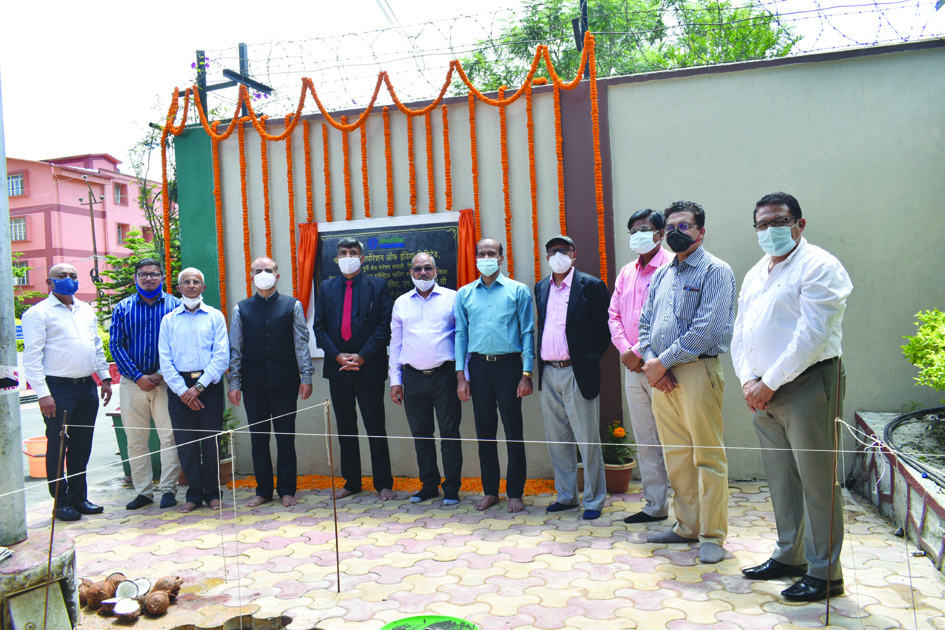 Kumar said in a tweet, "As India makes the ready transition towards #EVs, #Meghalaya under the initiative of CM @SangmaConrad, is all set to get its first EV charging station. A total of 11 EVCS in Shillong (5 public EVCS & 6 at Govt. establishments) will be developed as directed by the #FAME II scheme."
A total of 66 charging points will be built in Shillong: Each station will feature four 15 kW DC-001 chargers and a 100 kW CCS-2/CHAdeMO Charger (dual gun), bringing the total to 66.
A Memorandum of Understanding (MoU) has been signed for four of the 11 sites, including the POWERGRID Office Complex in Lapalang, the MTC Ware House in Demthring, the MTC Parking Lot in Police Bazar, and the Polo Parking Lot in Polo, according to the announcement.
A statement from the Ministry of Power stated that POWERGRID has emerged as one of the market leaders in the EVCS industry and is present in key cities in India such as Hyderabad, Ahmedabad, Delhi, Bengaluru, Gurugram, and Kochi.
"The available vehicles in the market can also be charged at the EVCS in Shillong and citizens should avail the opportunity to shift to a more environmentally friendly vehicle option wherein pollution caused by IC Engine could be eliminated," the POWERGRID said in a statement issued here.
There is 172,154 km of transmission lines, 262 substations, and a total of more than 446,940 MVA of transformation capacity in the company's system. Because of POWERGRID's utilization of the most advanced technical tools and methods, as well as its increased use of automation and digital solutions, the average transmission system availability has been maintained at greater than 99 percent.
The green push towards EVs in the state of Meghalaya
An EV policy was introduced by the state government in February of this year. A new law was passed in April. It aspires, among other things, to have at least 15% of the state's cars be electric by 2025. Within five years, the state hopes to have approximately 20,000 electric vehicles on the road. It's estimated that by implementing this regulation, approximately 50 lakh liters of fuel would be saved, resulting in a daily CO2 emission reduction of roughly 10,000 kg. As a result, the strategy will assist reduce CO2 emissions by more than 36.5 lakh kg per year.
Some early users of electric vehicles will also get incentives from the state government. A purchase subsidy of Rs 10,000 per KWH will be offered for the first 3,500 electric two-wheelers, Rs 4,000 per KWH for the first 200 electric three-wheelers, 2,500 electric four-wheelers, and 30 electric buses that are bought and registered in the state during that time. Other benefits include the removal of registration fees and road taxes, as well as preferential registration for electric vehicles throughout the five-year term of the current EV Policy.
The number of EVs in the state is negligible at the moment (just six). However, the policy says that even this small fleet has saved 1,568 liters of fuel and decreased 3,901 kilograms of carbon dioxide (CO2). Additionally, the policy proposes an EVCS-specific electricity tariff, including fixed demand costs, as well as priority electricity connections to the EVCS.