The Porsche Taycan EV has finally arrived in India and was unveiled on Friday at a starting price of Rs 1.50 crore.
Having several luxury electric cars in India, it is time for Porsche to introduce its electric supercar in India. The new Taycan electric supercar was unveiled in India today by the German automaker. The battery-powered sports car was supposed to be released in September 2019, however, it was postponed because of the Covid-19 pandemic.
The launch of the Porsche Taycan EV in India once again shows that premium and performance automobile brands in India are placing a lot of importance on battery power.
The Porsche Taycan EV will be delivered in the first quarter of 2022. Porsche also intends to invest 50 billion euros in the expansion of this new electric vehicle front. In addition, the company launched a new Macan for Indian buyers. The Macan facelift costs Rs 83 lakh (ex-showroom). Buyers will be able to purchase it starting in January 2022.
Manolito Vujicic, Brand Head, Porsche India said, "Introducing such a revolutionary model as the Taycan to coincide with our dealer expansion is proof positive of the roadmap we are creating for future business growth in India as we invest in new products and facilities throughout 2022. The order books are now open for the Taycan with first deliveries due early next year."
Porsche Taycan EV India – Exterior Design
Porsche has a long history of producing classic sports cars such as the 911, but its expansion into the passenger car market resulted in SUVs like the Cayenne and Macan, as well as 4-door cars like the Panamera. The latter is significant since the Taycan might be seen as a continuation of that design idea into an all-electric performance car. It should be noted, however, that the Taycan was built from the ground up as an electric vehicle and has nothing in common with the company's present lineup of internal combustion vehicles.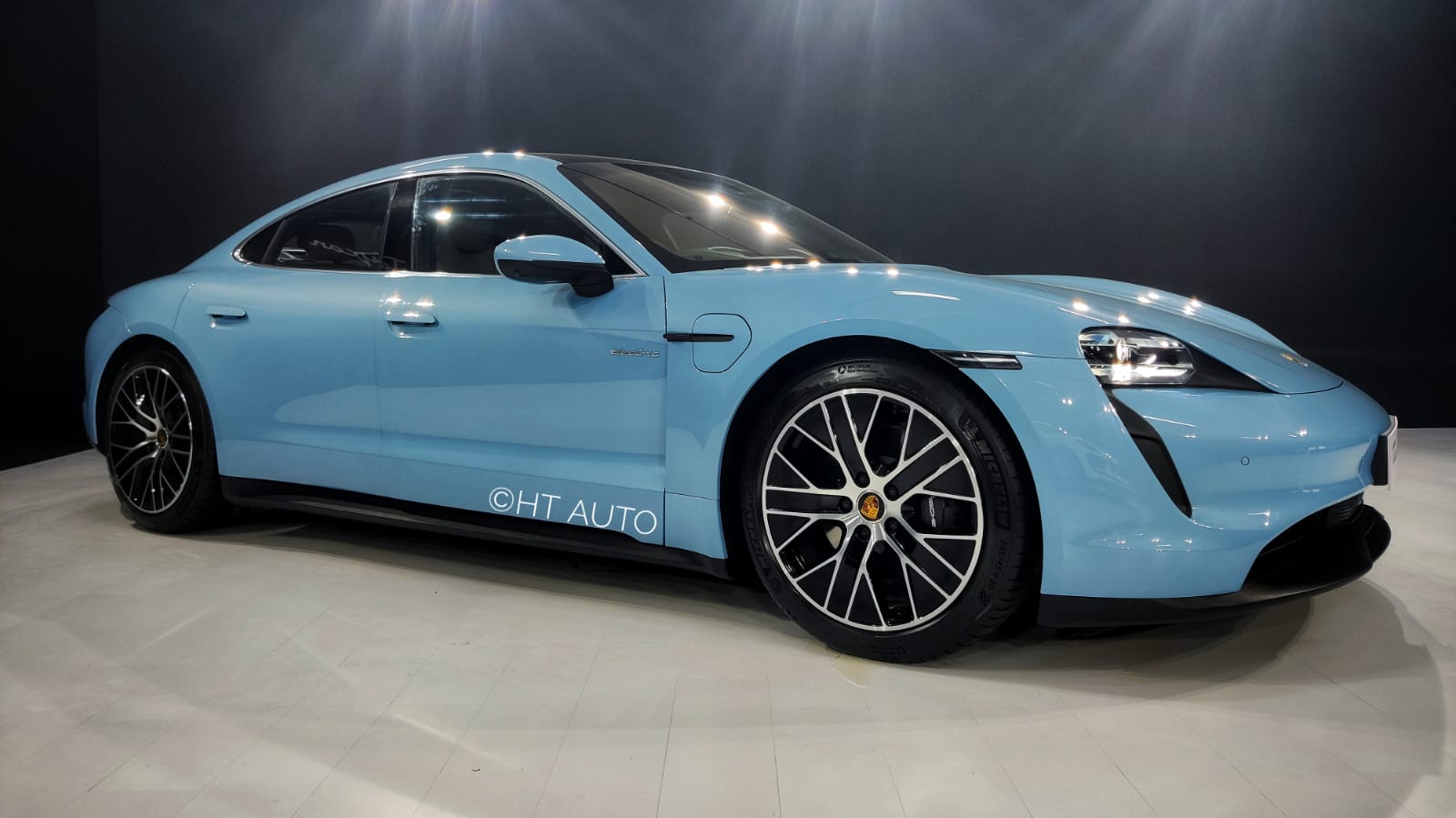 The car's front end looks noticeably different from what we're used to seeing from Porsche, with a marked departure from a familiar face in favor of a basic yet sporty-looking LED headlight cluster and a fluid transition from the bumper to the bonnet. With the 4-door design, the sides reflect the most striking resemblance to the Panamera's appearance. Take note of the wheels, which appear to be standard but are actually aerodynamically designed with closed sections. The edge-to-edge tail lamps showcase a distinctive Porsche design language at the rear.
It has blacked-out B-pillars, door-mounted ORVMs, and large five-spoke alloy wheels on the side profile. A sleek LED light bar on the back end is reminiscent of the iconic Porsche 911. The Taycan will be offered in 17 standard colors, as well as 65 paint schemes that can be customized through the Porsche Exclusive Manufaktur personalization program.
Interior Design & Features
The luxurious cabin, which seats four people including the driver, is inspired by the Porsche 911 of the 1960s. A multi-screen arrangement with a central 10.9-inch infotainment panel and an optional passenger display is housed in the two-tone dashboard. A big 8.4-inch touch panel with haptic feedback is also mounted beneath the air-conditioning vents on the center console.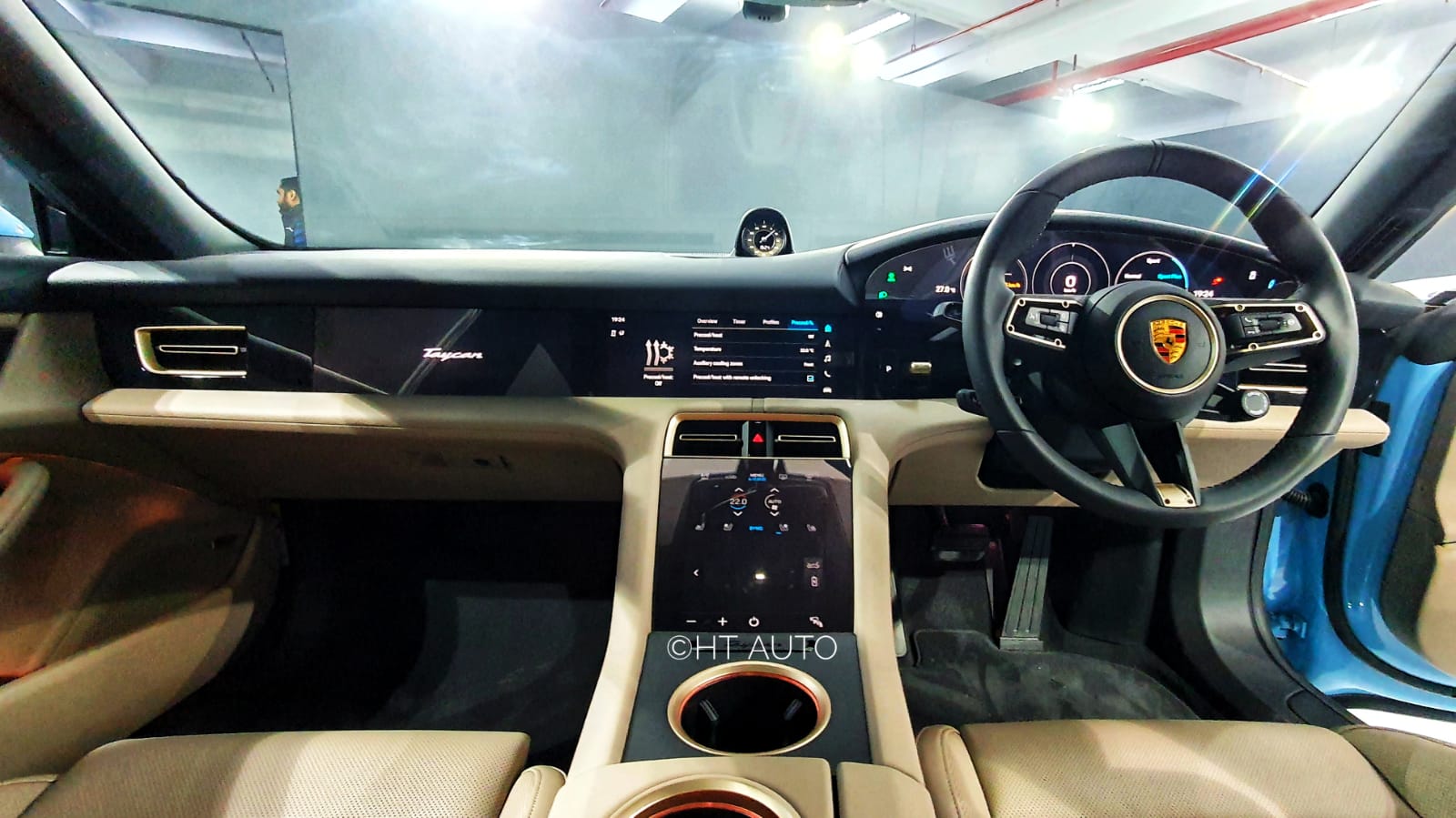 A basic yet sophisticated fully digital instrument console with a curved 16.8-inch display gives it a rounded appearance is also included. Wood, embossed aluminum, carbon fiber, and fabric trimmings have been used on the doors and center consoles. A massaging facility in the front seats, heated rear seats, 4-zone automatic climate control, and much more are among the significant features available.
Porsche Taycan EV Models
Available in four models comprising the Porsche Taycan, Porsche Taycan 4S, Porsche Turbo, and Porsche Turbo S, Porsche India also introduced the Porsche Taycan Cross Turismo in Porsche Taycan Cross Turismo 4S, Porsche Taycan Cross Turismo Turbo, and Porsche Taycan Cross Turismo Turbo S versions in the country.
Porsche Taycan EV Performance, Battery and Range Highlights
Powered by up to 761 bhp and capable of sprinting from 0 to 100 kilometers per hour in just 2.8 seconds, the Porsche Taycan Turbo S is the most powerful sports car in the Porsche lineup, while the entry-level Porsche Taycan with rear-wheel drive offers up to 484 kilometers of range when equipped with the Performance Battery Plus (according to WLTP). With the base single-deck 79.2kWh Performance Battery, the entry-level model provides up to 408bhp in over-boost mode with Launch Control, which jumps to 476bhp with the optional two-deck 93.4kWh Performance Battery Plus.
However, the Porsche Taycan Cross Turismo has a long battery life, greater rear headroom, and luggage space, as well as all-wheel drive supported by height-adjustable air suspension. It is mildly off-road capable. There are three variants available, all of which come standard with Porsche's Performance Battery Plus, which provides up to 456km of range from its 93.4kWh battery.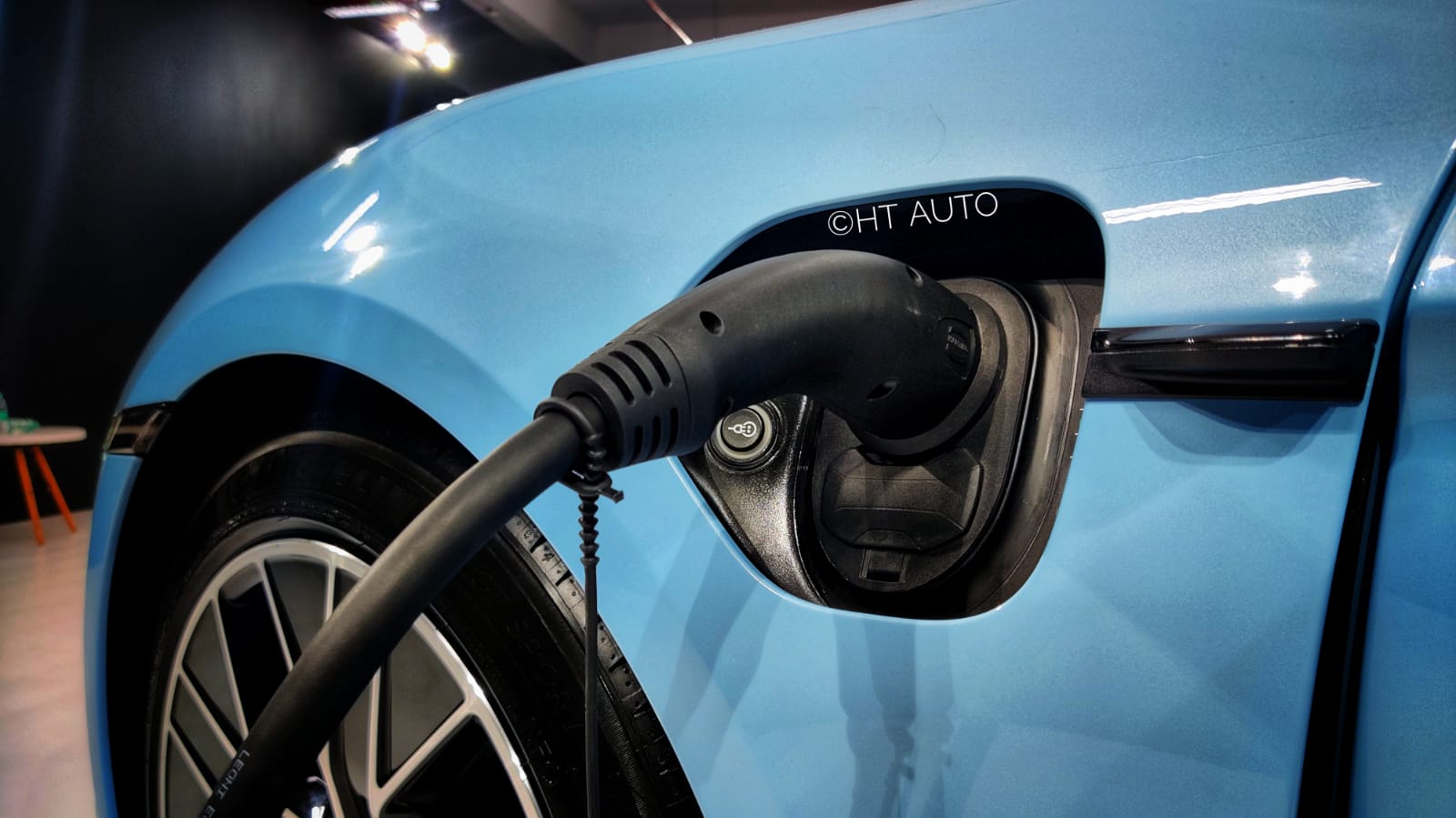 The Cross Turismo shares the same 800-volt architecture and two-speed transmission as the Taycan. The Taycan 4S Cross Turismo has 490 horsepower and 571 horsepower in over-boost mode, giving it a top speed of 240 km/h and a 0-100 km/h in a time of 4.1 seconds. The Taycan Turbo Cross Turismo has 625bhp with an additional 55bhp via overboost, resulting in a 3.3-second acceleration time to 100kmph and a top speed of 250kmph, while the Taycan Turbo S Cross Turismo has 761bhp and a 0-100kmph speed of just 2.9 seconds.
The Porsche Taycan Cross Turismo includes a Gravel mode for light off-roading as standard. The new model has a 30mm riding height increase. Gravel Mode changes the shift pattern of its two-speed transmission and adapts the throttle behavior for more control and better power delivery on slick surfaces, coordinating the assisting systems as well as the rear-axle transmission.
Porsche Macan
Porsche also unveiled the updated Macan, which starts at Rs 83 lakh (ex-showroom), and the company now expects both the Macan and the Taycan EV to boost the brand's sales prospects in India.
The new Macan is available in 14 colors and comes in three variants: Macan, Macan S, and Macan GTS. A new 195 kW (265 PS) turbocharged four-cylinder engine accelerates the entry Macan to 100km/h in 6.2 seconds with a top speed of 232km/h, while the GTS' 324 kW (440 PS), 2.9-liter V6 bi-turbo engine accelerates the GTS to 100km/h in 4.3 seconds with a top speed of 272km/h. The Macan S sits in the middle, driven by the same 2.9-liter V6 that produces 280 kW (380 PS) and accelerates to 100 km/h in 4.6 seconds.
All models come standard with Porsche's seven-speed dual-clutch transmission (PDK) and Traction Management (PTM) all-wheel-drive system, as well as a revised nose with a color-coded inlay, with the GTS center nose section and other sections completed in black. These cars have LED headlights and Sport Design external mirrors, as well as the Porsche Dynamic Light System (PDLS).
Sources: auto.hindustantimes.com, indiatoday.in