Luna Cycle, based in Southern California, has just introduced its newest high-power, high-performance electric bicycle. But don't get your hopes up about getting your hands on a Luna X2 anytime soon; the popular e-bike sold out practically as soon as it was released.
The Luna X2 comes two years after the breakthrough Luna X1 enduro e-bike was released, and it features numerous major advancements.
The carbon fiber X2 features a 20% larger battery, updated rear suspension linkage, a redesigned frame design, and Luna's V2 Ludicrous controller for extreme power.
Luna Cycle X2 electric bike features
The improved battery now has a capacity of roughly 820Wh at 48V and 17.5Ah. The battery is detachable, but it's buried inside the downtube for a clean, unobtrusive appearance. The presence of electric assist is not immediately apparent at first look.
Despite its covert appearance, the X2 comes with a lot of useful features. The Bafang M600 mid-drive motor near the pedals is one of the most powerful and torquey electric bike mid-drive motors available.
However, Luna has made even more changes to the motor, opting for its own proprietary controller, termed the Ludicrous controller (hmm, sounds familiar). The higher power option boosts the motor's output to a whopping 2,500 watts.
The torque-sensing motor is controlled by pedal assist and is optimized for a responsive ride. When operated with moderate pedaling, Luna claims a range of 30-40 miles (50-65 kilometers).
With pedal assist, this e-bike can reach speeds of up to 28 mph (45 km/h), making it a Class 3 e-bike in the United States (when operated with legal power limits programmed to a max of 750W).
Powerful mid-drive motor for off road performance
Bafang M600 with Torque sensor (Tuned by Luna) with Throttle
Includes Silent Peek Gear at no extra charge
Display with USB port
48v 17.5 ah with Samsung cells (820 watt hours)
30-40 mile range with moderate pedaling
Fast removable battery (see images)
Lightweight bike for this kind of performance and range (54 pounds for Medium)
Alternatively, owners can activate the throttle and enjoy the motorbike-like performance without having to pedal. If you lean aggressively on the throttle, you won't get the same range.
The X2 weighs roughly 58 lb (26 kg), which would be heavy for a pedal enduro bike but is really quite light for an e-bike with this much motor power and battery capacity. The top-of-the-line suspension isn't light, and neither is the high-performance electric drive components.
The bike's RockShox Debonair Yari front fork with 160mm of travel and RockShox Deluxe Select+ rear shock with 210mm of travel can handle just about any trail or off-road expedition you can throw at it.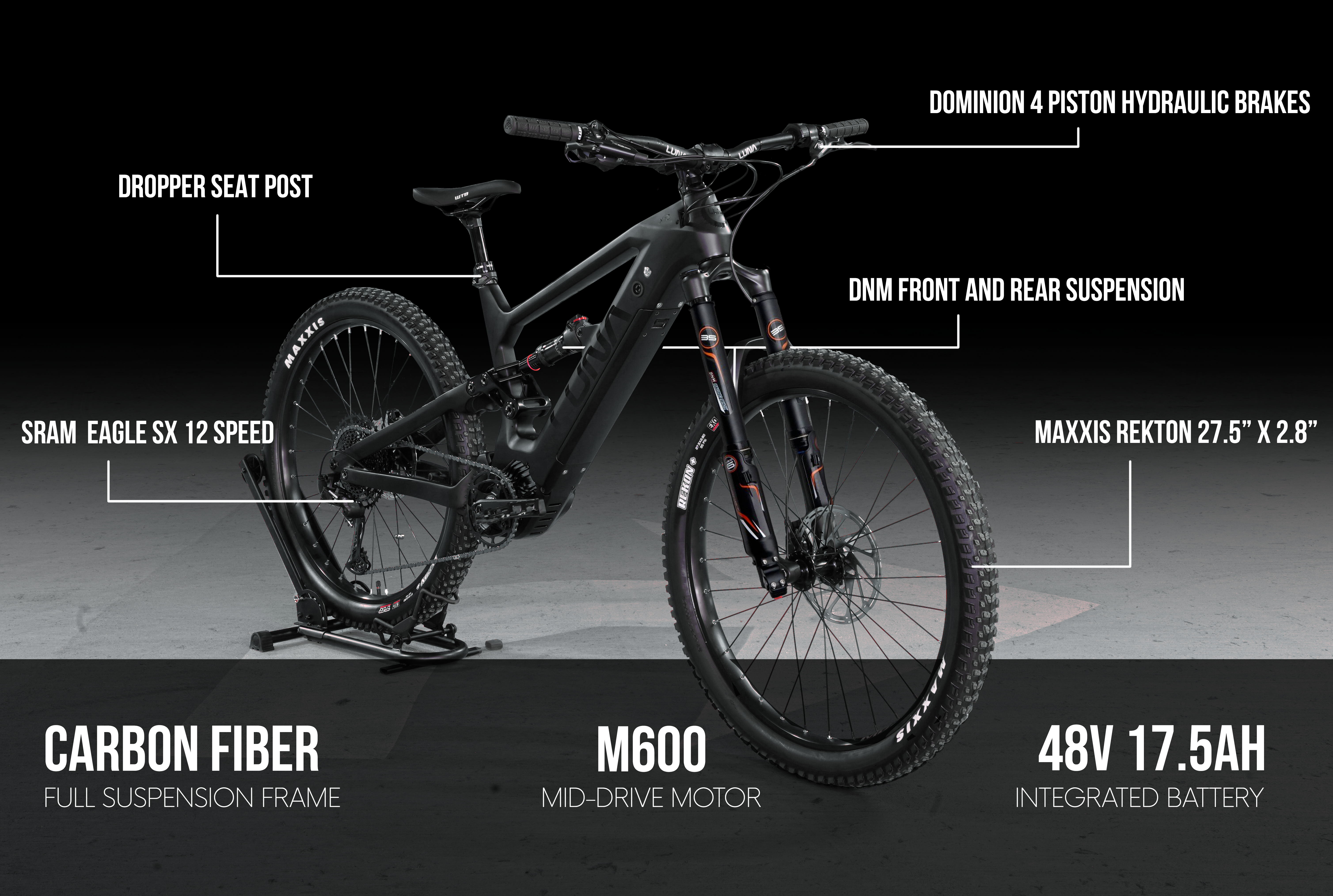 SRAM Eagle 12-speed groupset, SRAM GUIDE four-piston hydraulic disc brakes, dropper seat post with internal cable routing, MAXXIS tires, and, of course, the carbon fiber frame are among the other high-end components.
DNM USD-6 (160mm of travel) Inverted Fork
DNM RCP-2s Deluxe Select+ 210mm x 55mm in Rear
Sram Eagle SX 12 speed cassette (standard HG driver, not the XD from SRAM)
Hayes Dominion A4 hydraulic brakes 200mm front 180mm back (6 bolts rotors)
Maxxis Rekon 27.5"x2.8″ tires
44 56 Non Integrated headset
Double wall alloy 40mm 27.5″ rims
Dropper seat-post with internal routing
All cables throughout the bike are internally ran
Thru-axle hubs in both front and rear 15×110 Boost front, 12×148 Boost rear (Length 180mm, 1.75 pitch)
As a basic feature, the X2 comes with v2 silent gear constructed of peek plastic. (Normally, this is a $300 add-on). This gear is broader (for more contact area) and composed of much stronger composite peek material than prior gears, thus it will survive even longer than the original peek gears. In comparison to the original Bafang steel gear, which is around 2x as loud, this gear makes the bike quite silent.
For years, Luna Cycle has been recognized as an ebike industry leader. The whole of the bike will be trash if it doesn't have a good powerful lightweight battery. This bike includes a battery pack built into the downtube that can be readily removed when needed, enabling quick changes. The battery will come with two keys with a locking release mechanism, which will keep the battery firmly in place while also adding to the downtube's strength. The battery includes its own status of charge indicator, power switch, and charging connector, allowing you to remove the pack and safely charge your battery somewhere else than where the bike is kept.
Yes, there are more expensive components available, as the comments will undoubtedly point out, but this is an excellent arrangement.
The Luna X2 sold out almost quickly following its launch this weekend, with a price tag of $4,200 before the $400 Ludicrous controller update.
It's easy to see why, with components like these. The X2 competes in a class with bikes like the Specialized Turbo Levo, which costs about half as much as the X2.
Luna has a history of defying industry trends by providing more power than its competitors and giving prices that few other e-bike makers can match. The X2 is the latest in a long line of high-performance offerings from the company.
Source: electrek.co